BerryView at The Pec Thing!
Friday, May 13, 2022 (8:00 AM - 5:00 PM) (CDT)
Description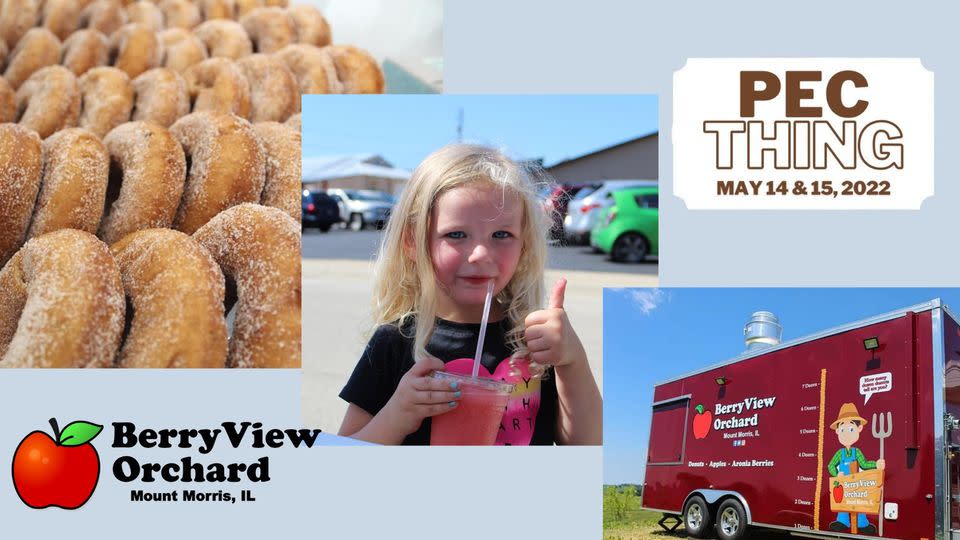 Come on out and see us at the Annual Spring Pec Thing! We'll be on site with apple cider donuts & slushies Friday for the early birds and Saturday & Sunday too from 8am-5pm!
The Pec Thing is located at the Winnebago County Fairgrounds located at 500 W First St Pecatonica, IL.
Information about the Pec Thing: Gate admission is $5 per person each day. Children 12 & under FREE. The Semi-Annual Pec Thing Antique & Flea Market will take place on May 14th, and 15th from 8 am-5 pm. Free Parking. OVER 500 VENDORS, INCLUDING... *Antique tools *Quilts *Yard Art *Jewelry *Stamps *Postcards *Furniture *Glassware *Crafts *Sports Memorabilia *Holiday décor *Electronics *Photography *Woodworking *Candles *Name Brand Products
HELD RAIN OR SHINE Over 100,000 square feet of indoor merchandise & 40 acres of outdoor vendors! What is an Early Bird Shopper Pass? Early bird passes allow you to shop the following days/hours during Pec Thing weekend: Friday from 9 am – 9 pm Saturday from 6 am – 5 pm Sunday from 6 am – 5 pm (Regular show hours are Saturday and Sunday from 8 am – 5 pm). How much does an Early Shopper Pass cost? Early Shopper passes are $20 for the entire weekend. Early bird passes can be purchased at Gate 1 on the fairgrounds. They do not have to be purchased ahead of time.
*Note: Many vendors do open to accommodate the "Early Shopper." However, there is no obligation on the part of the Winnebago County Fair Association or its vendors to guarantee open booths during "Early Shopper" hours. Food and beverages available for purchase. No Pets Allowed for Safety Purposes.
The Pec Thing
500 W First St



Pecatonica

,

61063



Friday, May 13, 2022 (8:00 AM - 5:00 PM) (CDT)