The One-Act Play That Goes Wrong
Sunday, May 22, 2022 (2:00 PM - 4:00 PM) (CDT)
Description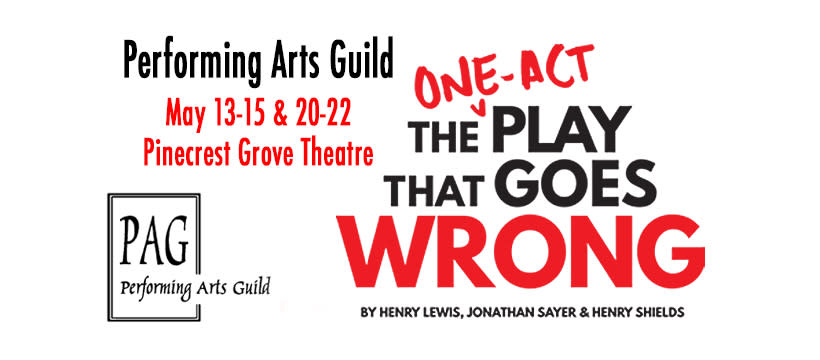 WE'RE BACK!! The Performing Arts Guild is excited to announce the spring performance of the award winning comedy The One-Act Play That Goes Wrong.
Performances will be Friday, Saturday and Sunday, May 13-15 and May 20-22 at the Pinecrest Grove Theatre.
A fictitious Cornley University Drama Society that has received a substantial bequest and is putting on a performance of The Murder at Haversham Manor – a 1920s murder mystery play.
The script was written by the fictitious Susie H. K. Brideswell. During the performance, a play within a play, a plethora of disasters befall the cast, including doors sticking, props falling from the walls, and floors collapsing. Cast members are seen misplacing props, forgetting lines, etc.
Dates:
May 13 7:30pm
May 14 7:30pm
May 15 2:00pm
May 20 7:30pm .
May 21 7:30pm
May 22 2:00pm
Tickets Will call or Pick up at the Pinecrest Grove Office: Register in advance HERE
For help ordering tickets, interested in a Group Rate for 10 or more, need additional information?
Give us a call at 815-734-2103 or Email tickets@performingartsguild.com
Images
Pinecrest Grove Theater
500 Evergreen Ln



Mt Morris

,

61054



Sunday, May 22, 2022 (2:00 PM - 4:00 PM) (CDT)
May 13 7:30pm, 14 7:30pm & 15 2:00pm May 20 7:30pm, 21 7:30pm & 22 2:00pm